Merrow
GU1 2UL
07801 708808
rosie@flourishinghealth.co.uk
www.flourishinghealth.co.uk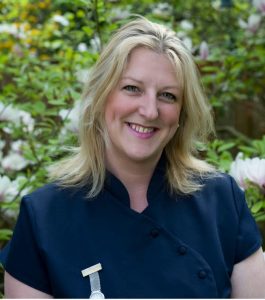 I started my professional life working at the Roben's Institute taking part in research into carcinogens in food. I then worked in a pharmacy for several years which helped me to gain an understanding of medicines and a pléthore of health conditions.
I was about to train as a pharmacist but felt I wanted to have a more holistic approach to health which lead me down the path of Indian Head Massage to start with. I then qualified as a masseuse and aromatherapist.
At this point I started working with cancer patients at the Fountain Centre based in the Royal Surrey County hospital.
Over the years I continued to study in order to be able to help people with a fully holistic approach and became a hypnotherapist and coach enabling me to help people truly transform on different levels. I then specialised through going to the Foldi Hospital in Germany where I became a certified Complete Decongestive therapist.
I have been working in field of health and well being since 2001 and feel truly blessed to be doing the work that I love.
My vision is to help you gain the health and vitality you want in a holistic manner treating the whole person and not just your symptoms. Using treatments from Manual Lymphatic Drainage (MLD) and bandaging, aromatherapy, hypnotherapy and NLP to workshops and retreats, I want to help make a significant difference in your life.
​I specialise in working with people who have experienced cancer or have lymphoedema but my overall quest is to help each individual to experience optimum health and wellness.
"When you touch one thing with deep awareness,
you touch everything."
– Lao Tzu
Therapies Offered
Aromatherapy
The use of essential plant oils to balance the body systems
Holistic Massage
The benefits of touch for body, mind and spirit for calming emotions towards balance and homeostasis
Hypnotherapy
Hypnotherapy is a combination of hypnosis and therapeutic intervention. The therapist leads the patient to positive change while the patient is deeply relaxed in a state of heightened suggestibility called trance
Indian Head Massage
Massage of the clothed body from the shoulders upward to relieve tension
Life Coaching
Life Coaching guides you in clarifying your dreams and desires, identifying your real talents and in applying your unique qualities in pursuit of your goals and life purpose
Manual Lymph Drainage (MLD)
Specific, gentle and rhythmical movements of the skin to stimulate the lymphatic system (the body's waste disposal system), increasing lymphatic circulation and reducing water retention.
Neuro Linguistic Programming
Neuro-Linguistic Programming (NLP) is a system of practical psychology to enhance your thinking. It can lead to profound life changes