Leatherhead
KT22
sambandha@sambandha.co.uk
www.sambandha.co.uk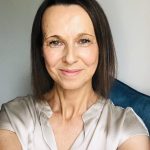 I really struggled with low self-worth and a lack of confidence. I'd never really been comfortable in my own skin since childhood and negative self-talk was as normal as brushing my teeth. I knew that I found it hard to love and accept myself fully but could never quite find the solution. I strived for perfection and validation in everything I did, in the hope that one day I would feel good enough.
In my twenties, I began my spiritual journey that ran alongside my lingerie career. It was the start of trying to find my way back home to the truth of who I was, which felt like a journey of my own self-mastery trying to get to the root of my struggles and deep sensitivity.
In my early thirties I decided to train to become a crystal therapist myself. I loved learning about the crystals and their formations (which felt familiar), and they have remained a big presence and support in my life ever since.
As a qualified Trauma-Informed Self-Love Coach and through my own personal journey of transformations, I'm passionate about holding space to help other women with their own self-empowering journey and assist them with overcoming their own personal struggles and pain.
We all have the ability to heal ourselves. Can we surrender and take the responsibility to want to change what isn't working out for us in our lives?  When we make that commitment to want to change and grow, amazing transformation happens. Would you be willing to love yourself enough to try?
Therapies Offered
Life Coaching
Life Coaching guides you in clarifying your dreams and desires, identifying your real talents and in applying your unique qualities in pursuit of your goals and life purpose
Light Language
Although not as well-known as other forms of energy healing, Light Language is a powerful healing modality that carries high vibrational codes and frequencies of sound.
Self-Love Coaching
Empowering women to transform their lives through a journey of self-love and connecting with their little me's.